Kukup Water Resort - Experience The Simple Pleasure in Life
From S$120 Per Adult, S$90 Per Child, Inclusive of 5 Meals, Transport Included. See Our Package Deal
Imagine relaxing in houses surrounded by the sea, your only link to the land is a long jetty. All the comforts are yours to enjoy. The hustle and bustle of city life is all forgotten as you admire the beautiful seascape and marvellous sunsets.
Kukup Holiday Resort – an ideal place for a short break.
A place where you can relax and have total enjoyment without worry. Spend your idyllic days promenading along those walkways above the sea, having fun and sing your hearts out! Wifi and Astro TV are also available at our resort. For those fishing enthusiast, don't forget to bring along your own fishing gears. Several outdoor activities are available and can be arranged during your stay at the Pee Song Shan Holiday Resort.
We offer families, groups, corporate retreat and individuals the ideal sea experience for their vacation. We provide transportation, meals, chalet, activities area & facilities, visit fish farm, boating, shopping etc.
Our Kukup Water Resort Packages include many of the resort activities, meals and area attractions.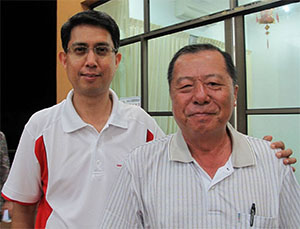 Mr Pee, Resort Owner with Mr Muhammad Faishal Ibrahim
MP for Nee Soon GRC
Resort Owner - Mr. Pee
Singapore Contact: +65 93635123
Malaysia Contact: +6016 7017372